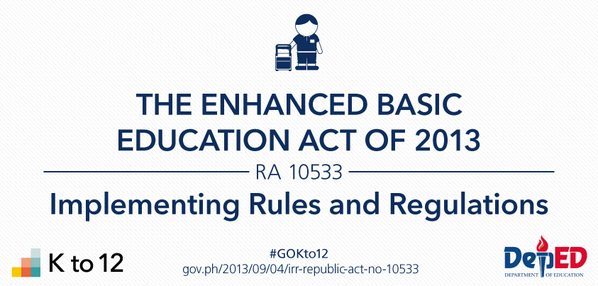 The IRR of the
Enhanced Basic Education Act of 2013
or the
Republic Act No. 10533
was signed yesterday, September 4, 2013 at Don Alejandro Roces Sr. Science-Technology High School located in A. Roces Ave. cor. Sct Tuazon, Brgy. Obrero, Quezon City.
Representatives from the Department of Education (
DepEd
) together with the Commission on Higher Education (
CHED
) and the Technical Education Skills Development Authority (
TESDA
)signed the said "Implementing Rules and Regulations" to mark the full implementation of the much-anticipated milestone in Philippine Education. This will continue to equip the students and the entire Filipino nation with a globally-competitive system of education.
Present in the said event are
Br. Armin A. Luistro
FSC (Secretary of Department of Education),
Joel Villanueva
(Director General of TESDA) and
Patricia Licuanan
(Chairperson of CHED).
Compulsory Basic Education
According to the of the Section 7 of REPUBLIC ACT NO. 10533:
"Compulsory Basic Education"
It shall be compulsory for every parent or guardian or other persons having custody of a child to enroll such child in basic education, irrespective of learning delivery modes and systems, until its completion, as provided for by existing laws, rules and regulations.
Kindergarten up to
Grade 12
(Senior High School) are now compulsory or required by law. It simply means that two more years are added to the "compulsary" status compare to the forme system.
What is the K to 12 Program?
The
K to 12 Program
covers Kindergarten and 12 years of basic education (6 years of primary education, 4 years of Junior High School, and 2 years of Senior High School [SHS]) to provide sufficient time for mastery of concepts and skills, develop lifelong learners, and prepare graduates for tertiary education, middle-level skills development, employment, and entrepreneurship.
The high school from the former system will now be called
junior high school
, while
senior high school
will be the 11th and 12th year of the new educational system. It will serve as a specialized upper secondary education. With the senior high school, students may choose a specialization based on aptitude, interests, and school capacity. The choice of career track will define the content of the subjects a student will take in Grades 11 and 12. Senior high school subjects fall under either the core curriculum or specific tracks.
photo credit: @DepEd_PH and http://www.shygirlsown.info/